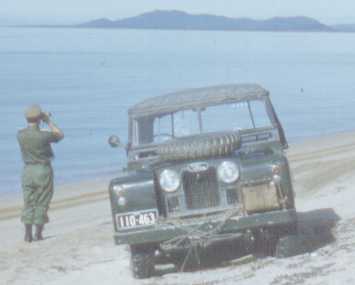 Australian Army Land Rovers
---
Introduction
Part of my professional experience was the design and testing of military vehicles, which included several variants of Land Rover for the Australian Army in the 1960's.
Pictures and information from those times are increasingly of interest to many people, particularly those who want to restore such vehicles. I hope what follows is of interest to you. I regret that any associated information is limited at present, although more pictures and information will be added as time permits.
Clicking on the links given below will take you to photographs or other information. You can use the Back or Return button on your browser to return to this page. If you come to other web pages with the same Land Rover picture at the top left, you can click on the picture to return here.
And if you have not already guessed it, pictures and text are copyright.
If you are interested in accurately locating any of the places referred to below, you can try a Place Name Search on the National Mapping site of Geoscience Australia. If you click on a Place Name that you find, a map will open showing its location. The Geoscience Australia site also contains links to Maps of Australia that you can view. These links will open in a new page, and you might like to keep the Place Name Search open for when you look at the pictures below.
---
Pictures of the first two prototype Army Ambulances on trials around Australia in 1960
Route for Tropical Trials 1960 and 1960/61 (excluding occasional excursions)
In jungle at Tully, North Queensland
And you said it would get through here!
Hann Highway, between Mount Garnet and Hughenden, Queensland
Black soil road west of Hughenden, Queensland
Julia Creek, Queensland
Ever had that feeling when you see a trailer (just like yours) cartwheeling end for end all on its own?
Civic Square, Mary Kathleen, Queensland
South of Alice Springs, Northern Territory
---
Re-built prototype Army Ambulance on trials around Australia in 1960/61.
Before Camooweal, Queensland, near the Northern Territory border
All in a day's work - at a secret location in the Far North
Between Trephina Gorge and Alice Springs, Northern Territory
Alice Springs, Northern Territory
---
Demonstration of prototype Army Ambulance at 31 degrees from vertical (from "Army" Newspaper 3 October 1963).
At Army Design Establishment (ADE), Melbourne - Overturn angle was about 40 degrees.
---
Australian Army Survey Vehicle for use in outback Australia - early 1960's.
Australian Army Survey Vehicle, early 1960's, front quarter view
Australian Army Survey Vehicle, early 1960's, front view
Australian Army Survey Vehicle, early 1960's, rear quarter view
---


Internet Site http://www.bamford.com.au
Copyright © John Bamford 2001-2008